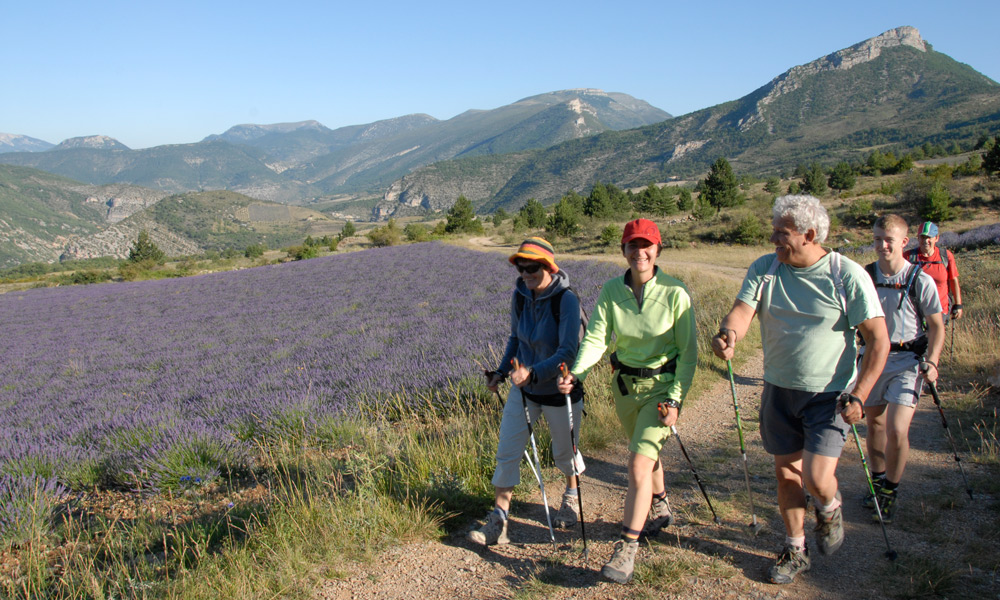 Lavander on mountains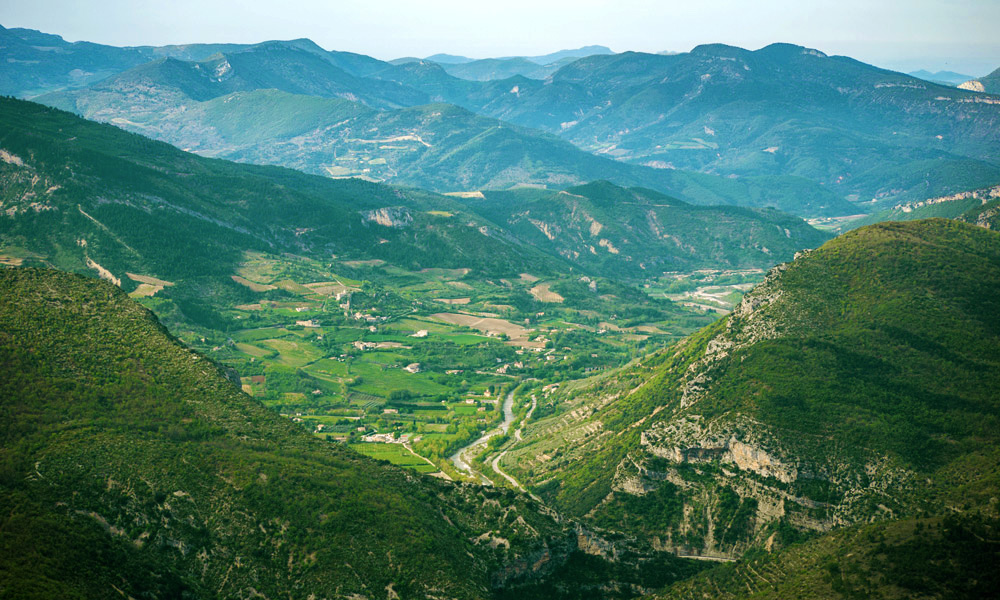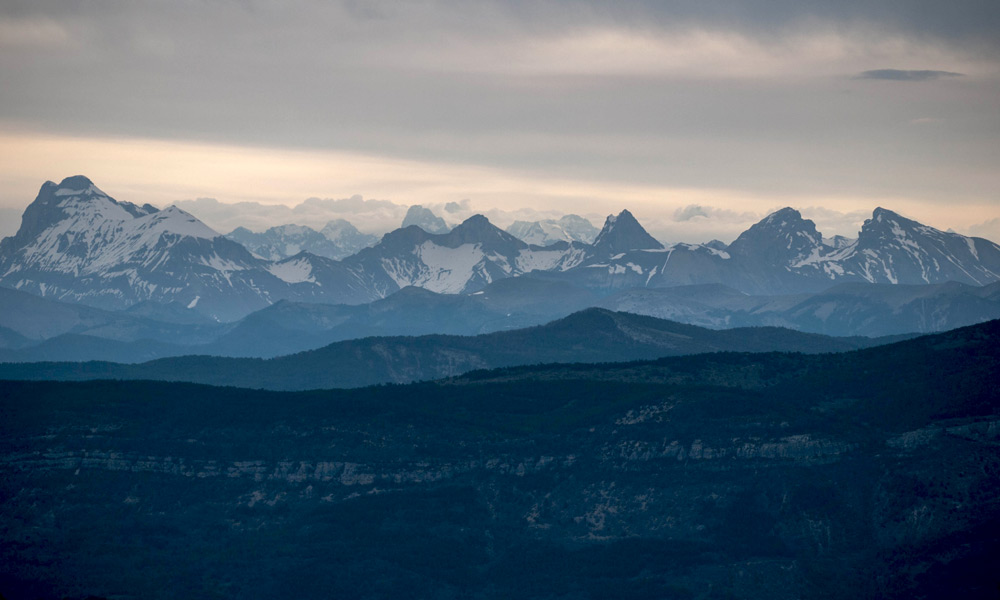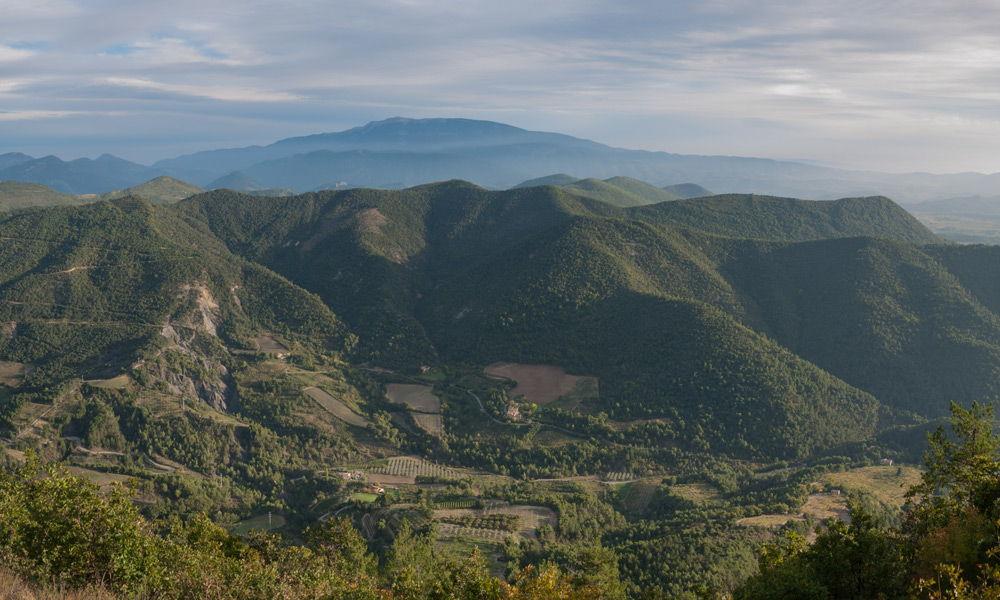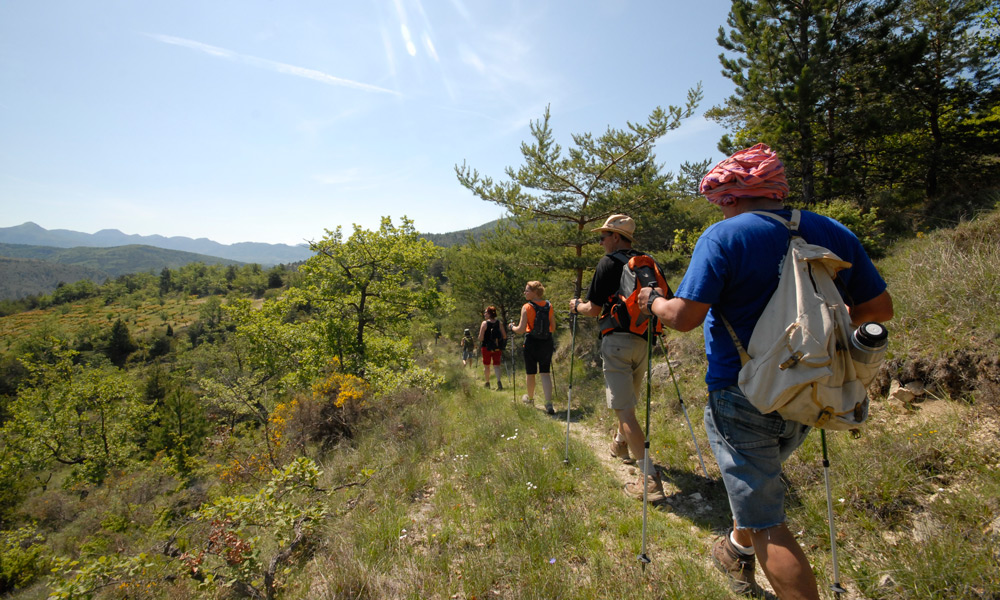 TREKKING ON THE HEIGHTS OF PROVENCE
Long tour 5d/4n
Guided-tour

Hiking guided tour
IT003
Outdoor sports, natural and cultural heritages, flavors ans scents
•
From 510 €
Rate :
•
Difficulty :

•
Share





Voir la carte
What is it ?
The Tour of the Baronnies Provençales, hiking route labeled "GR de Pays", generally takes about ten days. Between valleys and ridges, it represents a nice challenge for the experienced or amateur hiker.
We offer a variant of the famous Tour on 5 days / 4 nights. You will be accompanied by a specialist of the region who will guide you along the hilltop villages of the Regional Natural Park. For optimum comfort, your luggage will be transported for you. The places you will stay are also selected for their comfort, charm and local tradition. No doubt that along the way there will be encounters with shepherds, fruit and lavender growers, forest officers and other members of the local communities.
If the group prefers some steps can be arranged to include sleeping amongst nature on the ridges with moonrise in the evening ... and for the early risers, sunrise the next day!
For whom ?
Individuals, families, groups of friends, clubs & associations. Group of 5 to 15 people.
When ?
All year long.
Baronnies Provençales hiking tour in 5 steps - 5 days / 4 nights
Guided hiking with landscapes reading, wildlife and flora observation and flora, discovery of ecological environments, description of historical and geological heritage, tastes, scents and flavors discovery, etc.
Hiking available to any valid public - adaptable difficulty level depending on the group level.
Accompanied by a state certified guide, specialist of the area and expert in natural and cultural heritage of the Baronnies Provençales.
Lunch: "Saveurs" picnic and traditional local gastronomy
Accommodation and dinner in a comfortable self catering accomodation

Starting from June 2016
– Tailor made trip (please book 20 days in advance)
From 510 € /person (without option) based on accommodation in a self catering accomodation.
Prices include
Supervision, luggage transfer, activities, accommodations, food.
Prices does not include
Internal transfers.
Drinks, insurance, personal expenses.
Guiding
State certified guide.
Organisation
This trip is organized in partnership with locally based guides.
Further information
The program is not fixed and circumstances beyond our control may alter the progress. On site, our guides may need to change the route depending on the weather or if the safety of the group requires.